Sisters in Science – two of whom from COAST talent programs – win NWO Diversity Initiative Award 2021

8 December 2021 | 2 minutes read
COAST participants may well know Mimi den Uijl and Noor Abdulhussain as very active talents in the COAST community. Noor joined the Analytical Science Talent Program (ASTP) as a student from Hogeschool Rotterdam. Following her graduation there she enrolled in the MSc+ talent program as master student from University of Amsterdam (UvA). In 2017 she started her PhD at the same university in the group of Prof. Schoenmakers. Mimi was MSc+ talent student from UvA and winner of the COAST Student Innovation Award (CSIA) in 2018. She started as PhD student with Profs van Bommel and Schoenmakers later that year. Mimi and Noor teamed up with Lotte Schreuders, education developer for UvA's MSc Chemistry track Analytical Sciences to form the Sisters in Science. The Sisters in Science continue their activity in COAST, for example by giving the 'pitch-training course' in ATLAS (formerly MSc+), COAST's talent program for academic MSc students. Thus they are a catalyst for modern communication in our community.
Noor, Lotte and Mimi established Sisters in Science NL in January 2021 and started with an Instagram account (sistersinscience_nl) aiming to counter stereotypes about scientists. The three initiators use this platform to show their daily life, workplace and the fun that they have as junior scientists. In a short time span, Sisters in Science NL received a lot of publicity and started collaborations with various parties, such as the Royal Netherlands Chemical Society (KNCV), the Centre for Youth Communication Chemistry (C3) and the Royal Association of the Dutch Chemical Industry (VNCI).
And now they won the NWO Diversity Initiative Award 2021 !
From the jury report: The jury is impressed by the young bottom-up initiative started by two PhDs and a lecturer. Since the start of January 2021, the initiative has grown and the jury thinks that it has the potential to grow further and create more impact. The jury praises the fact that Sisters in Science NL focuses on teenagers and adults and is based purely on their own experiences. The initiators of the platform understand their generation, show stereotyping as a reality and do not shy away from negative elements. They honestly show what is possible and therefore the jury believes that the three women are the right influencers for the target group.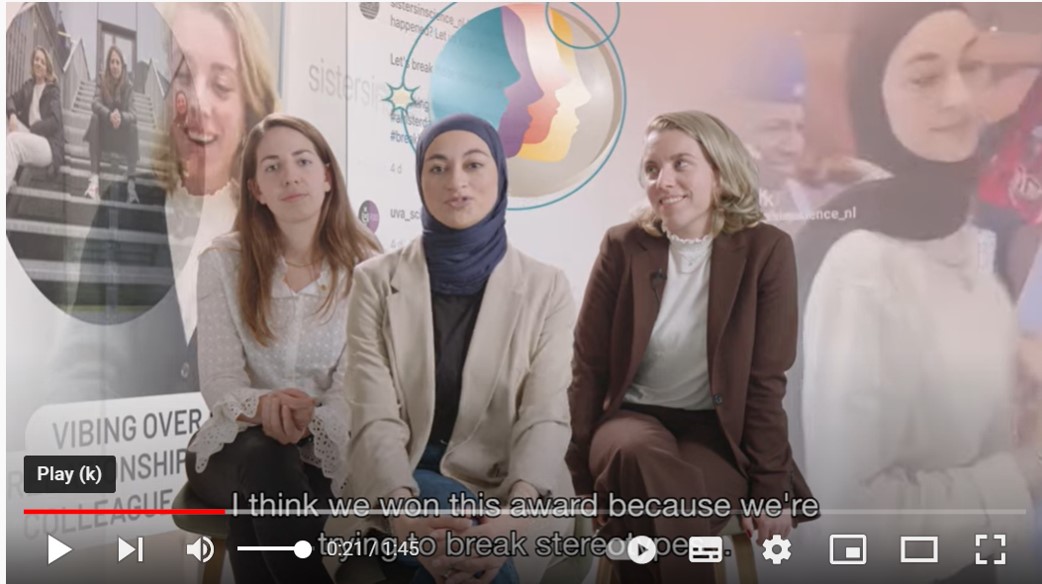 Have a look at the Sisters' response to their award here. Find their website here and the all important Instagram account here.
COAST congratulates Sisters in Science on this recognition for the work they do to promote the role of young women in science in general and analytical science in particular.