Science and Technology in Analysis progress fast. Therefore, it is important for professionals in analytical science and technology to keep their knowledge up to date. COAST offers trainings in various analytical fields at various levels that allow professionals to expand their knowledge.
Courses from our talent programs are available for COAST participants' employees. The courses offered are designed for the best students in Analytical Sciences who follow these courses on top of their regular education. Thus, they are particularly fit for people who have been working in analytical sciences for a while already.
For an overview of planned courses and course leaflets please click here.
For more information about participating please contact: Petra Aarnoutse
ANAC PhD Education Program - Courses for PhD students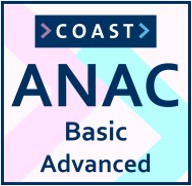 The COAST ANAC education program offers courses for PhD students who want to broaden or deepen their knowledge in analytical science techniques. The courses are also suitable for analytical specialist from industry who wish to maintain or increase their knowledge of techniques and applications. ANAC courses are offered throughout the year, as summer courses or as a one -or two-day topical courses on weekdays and/or Saturdays.
Courses may be part of the ASTP-program, the MSc+ program or specifically aimed at PhD-students.
We offer ANAC courses at different levels:
BASIC to stimulate a broader perspective
ADVANCED to stimulate a fundamental approach
SKILLS to stimulate personal development
Lecturers are national and international experts from academia and the industry.
There is a fee for attending ANAC courses, but all COAST partners and all PhD students receive a 50% discount. PhD students affiliated with a group that participates in COAST receive a 75% discount. Please note that COAST teachers may have earned wildcards that stand for free courses and can be used by their students or junior colleagues (or by themselves).

Courses in the framework of ANAC are labeled as such in the L3 overview. For an up-to-date overview of L3 courses please click here.